11 & Under Japanese/Okinawan Forms (N-21)

The Japanese forms divisions were packed this year where the youngest division sported players from Canada, USA, Mexico and Guatemala. A tie for second place left Sage Northcutt and rookie Trevor Kim of British Columbia, Canada to repeat their forms with Northcutt the winner. In Finale 1, Northcutt and eliminations winner, eight year old Adryanne Angat pumped out two outstanding forms, Northcutt with Goju-shiho-dai and Angat with Kanku-sho. In the end they tied 49.94 leaving a repeat performance where Angat nudged past Northcutt by one one-hundredth to win her first world title. She represents Team Proper of the Bay Area in California.
12 to 14 Japanese/Okinawan Forms (N-22)

When it comes to Japanese forms it's hard to top the players from Don Benoit's school of Sudbury in Ontario, Canada. Just when Colbey Northcutt could breathe a sight of relief with Benoit's Justin Lanteige moving into 15 to 17 year old division, Trevor Blanchard from Benoit's is there to fill the void. Leaving Jordan Simon behind by one one-hundredth for third, Northcutt and Blanchard tied leaving a run-off for Finale placement where Northcutt was the victor by a hair. The Finale was again a close match. With Northcutt performing Go-pei-sho to Blanchard's Ni-pai-po, the Finale left Blanchard a victor for his first world title 49.93 to 49.91.
15 to 17 Japanese/Okinawan Forms (N-23)

Three one-hundredths separated the top four players where a tied run-off left last years champion and last year's runner-up, Mike Spizzuco and Sergio Calva with third and fourth place this year. Mexico fielded four of the top eight players this year including Damian Marquez of Team DM who placed 29.97 to 29.98 to last year's 12-14 year old champion, Justin Lanteigne, in the eliminations. Lanteigne is a student of Don Benoit in Sudbury, Canada. He performed Chataryara Kushanku while Marquez performed Ni-pai-po in the Finale. With the nod of all seven judges, Lanteigne won the division giving him his second Japanese title in a row.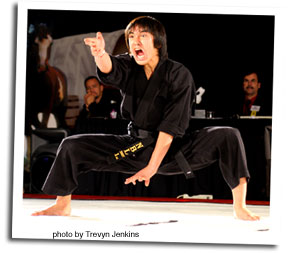 11 & Under Kenpo/Kajukenbo Forms (N-24)

This division held one of those rare occurrences where three top players tied for first place in the eliminations. Last year's champion, Jaime Nakamura, along with Sage Northcutt and Michelle Sims all tied with 29.92 each. Nakamura and Sims won the run-off leaving Texas' Northcutt in third place. Nakamura is a protege of adult kenpo icon, Jody Sasaki and he once again persevered in the Finale 49.95 to 49.90 to win the title two years in a row. Michelle Sims is a member of Pinnacle Martial Arts in Clearfield, Utah.
12 to 14 Kenpo/Kajukenbo Forms (N-25)

Colbey Northcutt prevented a pair of brothers from going to the stage for the first time to compete against each other for a title. She topped Jose Bettencourt by one one-hundredth and Karl Bettencourt by two one-hundredths leaving him in third place. But in another of these infamous turn-arounds, Jose Bettencourt upset Northcutt with a 49.94 to 49.91 score. Colbey hails from Team Schumann and lives in Katy, Texas. Bettencourt is a member of Uhenyo Martial Arts under Chris Eugenio in Las Vegas, Nevada.
15 to 17 Kenpo/Kajukenbo Forms (N-26)

As number one national seeds in WestPac and PanAm, Dezmond Monroe-Robinson and Juan Gonzalez headed to the Finale stage leaving Branlee Querubin of Team Pro-Rank in third. Scoring two 10's in the eliminations and another 10 in the Finale, Monroe-Robinson won the division with flying colors little to realize that his best still lay ahead of him. He hails from Pallen's Martial Arts in San Leandro, California. Gonzalez, who took runner-up two years in a row, trains under Luis Jimenez and the Zen Martial Arts School in Mexico City.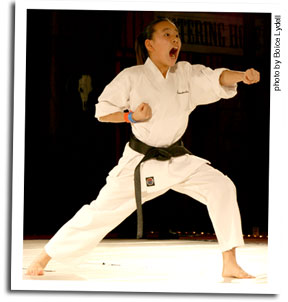 11& Under Korean Forms (N-27)

Three-way ties for first place don't happen that often, but this year's Super Grands was blessed with two of them. In this division the three players that held all the first places seeds in all five national conferences all would up with tied scores of 29.94. Veteran players Amanda Chen, Sage Northcutt and Karina Hipolito went at it a second time leaving the youngest (8 years old), Hipolito with third place with a 29.92 score. Performing Jin Do, Amanda Chen led Sage Northcutt's rendition of Gae-Baek by one one-hundredth, 29.96 to 29.95. With a Grand Finale bow out by Northcutt this wound up the final round leaving Chen with her first world title. She hails from Amerikick Studios in New Jersey under Mark Russo. Northcutt trains Korean under Bear Loebe in Texas.
12 to 14 Korean Forms (N-28)

Gae-Baek was the form of choice in this division as a pair of nationally seeded fourteen year olds took the top spots at the end of the eliminations. Well known players, Colbey Northcutt and Jordan Simon came within one one-hundredth of a point of each other with easy comparison by the judges as they did the same form. Heading to the Grand Finale stage, Simon held the advantage as the eliminations winner but Northcutt captured the Finale judges' appeal as she reversed the tide with a convincing win 49.94 to 49.91 returning her to the world title she has held in both 2006 and 2007. Training under Bear Loebe she resides in Katy, Texas. Simon trains at Escobar Karate in Malibu, California.
15 to 17 Korean Forms (N-29)

Once again the three players taking the five number one seeds of the national conferences rose to the top. By a mere one one-hundredth loss, multi-year veteran, Sergio Calva took third place leaving his neighbor, Damian Marquez, also of Mexico City along with last year's runner-up, Mike Spizzuco of New Jersey, with tied 29.95 scores. Marquez ran away with the run-off 29.97 to 29.94, but in the Grand Finale the judges saw just the opposite awarding Spizzuco an overwhelming win for his first Korean world title. He trains under Juan Perez and represents Team RCU. Marquez trains under his father, Mexican national promoter David Marquez of the DM Team.
Men's Japanese/Okinawan Forms (N-30)

Having a first place national seed is not a pre-requisite, to obtaining a world title win. "All good things come to those who wait" and despite his lack of a top seed, multi-year contender Kenny Lim of Vancouver, Canada, who had never qualified past the eliminations was headed to the Grand Finale after successfully capturing the highest eliminations' score. At his heels were capable opponents Scott Wu and last year's NBL overall traditional forms champion, Steve Kawamura. With tied scores and after the ensuing run-off, Wu won the second spot for the Finale against Lim. Choosing an unconventional Super Grands form, Lim performed Annan and stole the top score of every one of the Finale judges for a 49.95 to 49.90 tally over Wu for his first NBL world title. He trains under Tony Kim and Wu under Manuel Gonzalez of San Francisco, California.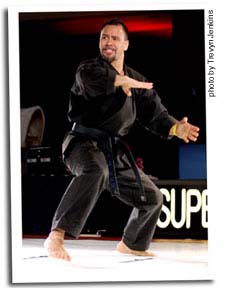 Adult Kenpo/Kajukenbo Forms (N-31)

The results of this division were to be anyone's guess with all the twists and turns along the way. Reversal of eliminations winners are not uncommon at the Super Grands where even slight differences in players' performances from eliminations to the Grand Finale can drastically change the judges perceptions. But this year held a whopping fifteen reversals from the eliminations scoring. Standing alone in this division to qualify the top seed for the Grand Finale was Scott Wu while 2006 champion, Julio Domingo of Mexico and Jason Cortez of California battled out a tie for the other qualifying position. Tied for a second time, Cortez won a judges' hands vote and proceeded to Finale 4 where he got also got the best of Wu 49.96 to 49.92 performing Sgrabuto Yoden to win his first NBL title. He trains under Tom Mitose and resides in Manteca. Wu is also from the Bay Area and resides in Daly City.
Men's Korean Forms (N-32)

Three former NBL Korean forms champions rose to the top spots this year. 2000 junior world champion Dan Marshall missed a tie for first place by a mere one one-hundredth despite some impressive side kicks. Left for the Grand Finale and in a tied first place position were 1998 and 2005 world champion, Edgar Cordova of Guatemala and 2004, 2006 and 2007 world champion, Jerico Catura of San Jose, California. Cordova trounced Catura in the tied run-off for the Finale preferred seeding performing Gae-Baek. The Finale judges saw the same closeness in their first performance as they also tied the pair. With a run-off again in store, Catura slipped by Cordova 49.94 to 49.92 to capture a three year victory. Catura performed Ui-gee-young.
Adult Soft (no Wushu/Kenpo) Forms (N-33)

Roark Hodson had an excellent year stealing all three adult soft style divisions and making it three years in a row as world champion of the soft traditional forms division. Defeating Mexico's Julio Domingo 29.95 to 29.93 in the eliminations he again proved his winning ability taking the win in the Grand Finale by four one-hundredths. Hodson resides in Salt Lake City, Utah and faithfully trains under Myong Oh. Third place was won by Jonathan Atiya, also of Utah.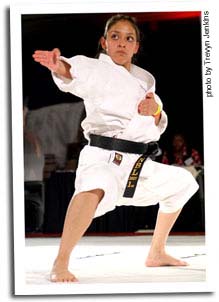 Women's Japanese/Okinawan Forms (N-34)

Daniela Barrientos remains an iconic Mexican competitor in the NBL. Having won her first title as a junior in 2000 in creative forms she has blossomed into a mainstay Japanese forms player winning that title in 2002, 2005 and 2007. With several former runner-ups in contention, Ashley Artese rose to the occasion to challenge her this year. Leaving Mocha Davies of California in third, Barrientos and Artese donned the Finale stage performing Nipaipo and Kurunfa respectively. Persevering once again Barrientos successfully won the title bringing it back to Mexico once again. She hails from the Top Team (obviously - since she married the coach). Artese trains Shotokan under Ray Owens and is presently in college in South Carolina.
Women's Korean Forms (N-35)

Since Casey Marks' retirement several years ago, this division has basically been ruled by Ashley Artese. That was until last year's Super Grands in South Carolina where a tie in the eliminations and two ties in the Grand Finale with a show of hands by the judges gave the narrowest of possible wins to Mocha Davies, despite the fact that it was the state that Artese was living in. This year both players returned, this time to Davies' home state of California where once again the home state favorite would lose, thus elevating Artese to win her fifth Korean forms world title. Topping Davies by two one-hundredths in the eliminations, Artese convincingly beat her in the Grand Finale with the nod of all the judges. Artese stills hails from Columbia, South Carolina. Davies trains under Brandon Hastings in Southern California. Shantell Dawson of Chip Wright's school in Oregon was third.
Senior Hard Traditional Forms (N-36)

Last year broke from the long standing tradition of Americans and Canadians winning this division as Mauricio Valenzuela of Guatemala, after twelve years absence, won the division. This year two newcomers of Mexican descent topped the roster. Hernando Hidalgo of the Estado de Mexico took a narrow eliminations defeat to Armando Anselmo of San Diego. Anselmo put on a great traditional display in the Grand Finale receiving six of the seven judges favor and winning one of his two world titles for 2008. Third place was won by Canadian Sheila Grech, who won this title in 2005.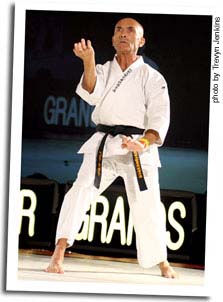 Senior 45+ Hard Traditional Forms (N-37)

With the absence of Johnnie Watkins this year, the division was wide open where two NBL rookies stepped in. Gregory Molinar of Seidokan International took a lead by one one-hundredth over Todd Dunphy of Blue Dragon in the eliminations. In Finale 4 Molinar took a convincing 29.95 to 49.90 win for his first world title. He hails from Simi Valley, California and Dunphy from Hawaii. Camille DeLoach from Pinnacle Martial Arts in Utah took third. In rare form none of he three winners had any first place national seeds.