Junior Super Fly Continuous Sparring (N-90)

The crowd went wild when these youngsters hit the stage. Chants of "Jesse" and "Andres" rocked the room as two tykes battled for the youngest continuous sparring world title. Jesse Martinez of El Paso, Texas was one up on Andres Bickford of Guatemala after having given him an early loss in the eliminations. So Bickford would have to win his first finale match to stay alive. And while the match was fast and furious, Bickford fell 76 to 62 leaving Martinez and Team Alchemy with the world title. Martinez trains with Laco Villanueva and Bickford with Salvador Schumann. Dominick Rubalcava, also of Team Alchemy, was third.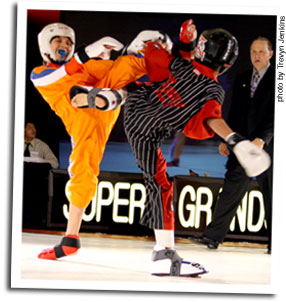 Junior Fly Continuous Sparring (N-91)

Whatever wasn't expressed in wild action in the super flyweight division certainly was in the flyweight. Youngsters Chance Maxwell and Nick Medina, both from El Paso, Texas, but representing two different teams, laid it all on the line. Medina representing the Top Team under Jacob Tapia and Maxwell from Laco Villanueva's Team Alchemy were no strangers to this stage as the same pair met last year for the super flyweight division title. Destiny was not to favor the underdog for equal winning status however, as Maxwell topped Medina 92 to 71 for his second title in as many years. Jerrell Siazor of Nevada took third.
Junior Feather Continuous Sparring (N-92)

In rare form this rather low scoring world title division had no penalty points awarded. Bobby Seronio of California and Bernardette Escalada of Texas qualified for the title after no eliminations losses save one by Escalada to Seronio. By a 48 to 35 score Seronio won the first match and his first NBL world title. He trains under his father, Booby Seronio Sr., while Escalada trains with the legendary Laco Villanueva. Cristian Serovic of Schumann's Guatemala was third.
Junior Light Continuous Sparring (N-93)

Two Amateur International's champions donned the Grand Finale stage for this world title. Bradley Norris of Hickory, North Carolina and Diego Marroquin of Guatemala each took a loss to the other in the eliminations so one more match would end their year's quest. With a 139 to 134 score Norris probably surprised himself more than anyone else wining his first NBL title. He trains under Josh Page while Marroquin is a student of Edgar Cordova. Amanda Chen of New Jersey was third.
Junior Light Middle Continuous Sparring (N-94)

So much for any reserved matches. Sage Northcutt and Isaac Padilla from east and west Texas respectively left nothing to chance as they took this match with complete seriousness. Losing by a mere two points in the eliminations to Northcutt, Padilla needed the first win in the Finale to stay alive. Wild and exciting the match ended 134 to 124 in Northcutt's favor where a whopping 33 penalty points between the pair made all the difference. Northcutt represented Team Alchemy while Padilla is from the Top Team. Tony Calvery of Team Proper was third.
Junior Middle Continuous Sparring (N-95)

This was the only junior continuous sparring division where a second match in the Grand Finale was forced to determine the world champion. Josue Guerrero took a 73 to 70 elimination's loss to Karl Bettencourt before they faced each other again to determine the title. Guerrero topped Bettencourt for the first match-up in the Finale 111 to 95 forcing another match. The pair went at it again where in the end two exhausted players were ready for scoring with Bettencourt still laid out on the floor. 152 to 127 Guerrero won the title after having scored over 260 points total, more than any other player in the Finale. He trains with Jacob Tapia and the Top Team while Bettencourt is a student with Uhenyo Martial Arts. Scot Bowman of Family Karate in London. Ontario, Canada was third.
Junior Light Heavy Continuous Sparring (N-96)

Two members from Team VKA reached the Grand Finale to battle out this title. Both had one loss, ironically from the same player that only managed fourth place – Connor Cordova of Colorado. Miguel Soto and friend, Juan Gonzalez, both of Mexico City, battled to a 114 to 85 score with a win by Soto for his first wold title win since 2004 when he won the 10-11 point sparring title. Both players are trained by Luis Jimenez. Billy Leader of Pittsburgh, Pennsylvania was third.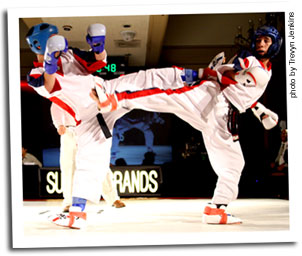 Junior Heavy Continuous Sparring (N-97)

To describe the last three years Super Grands story of Naveed Kermaninejad would be nothing short of enigmatic. Fans of continuous sparring may remember this division in 2007 where the third place person in this division (Kermaninejad) was presented with an unprecedented opportunity to a second life to fight for the title after a weight violation of one of the finalists' players. Then went to stage as the underdog and won two matches and thus the title. Last year he controversially lost the title by a mere couple of points to Juan Pablo Santiago. Well, both of these players were back again this year to continue the saga. In the eliminations he got disqualified for drawing blood on Sergio Elizalde, thus taking his one allowable loss. With one life left he had to fight Elizalde again where Elizalde took a loss for drawing blood against Kermaninejad. Now they had to fight a third "do or die" match where Kermaninejad won 29 to 19 sending him to the Grand Finale against Juan Pablo Santiago again this year. In the Finale Kermaninejad lagged 53 to 39 at halftime pouring it on the second half and outscoring Santiago 47 to 38, but overall total still left Kermaninejad at a loss 91 to 86 to give Santiago a two year run as victor. Kermaninejad trains with Ray Pruitt in Danville, California, Santiago with Salvador Schumann in Guatemala. Elizalde of Mexico City, was third.
Junior Super Heavy Continuous Sparring (N-98)

Seeding made the difference in this heavily contested division as Jose Lara of Texas with low seeding had to win seven matches in a row to even make it to the top four and then lost three times to leave himself in the position of fourth. The big winners and also from Texas were James Davidson with five wins and Daniel del Valle with a single loss to Lara. These two headed for the Finale 3 stage for the title bout where Davidson broke through for his first NBL title winning the first match 56 to 35. He trains with D.E. Chambers and Del Valle with Laco Villanueva. Skyler Bright of Utah pulled in third place.
Junior Girls' Feather Continuous Sparring (N-99)

Staphanie Rosales had good luck, bad luck, good luck and then bad luck again all wrapped up into her continuous division. Good - she won her first three matches, bad - she was injured and had to bow out of her fourth match. Good - her top seed afforded her a bye and ultimately the win of her fifth match thus seeding her into the Finale for the title. Bad - she had to bow out of the Finale and take second, the same place she took at last year's Games. She is an Alchemy student under Laco Villanueva. Taking the title with six straight wins was Marissa Rojas from Dumlao's Martial Arts in Rodeo, California. Ximena Cuellar of Schumann's in Guatemala took third.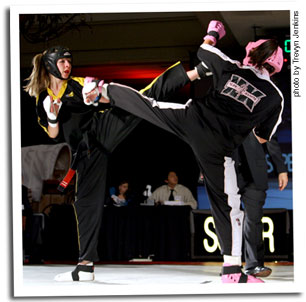 Junior Girl's Light Continuous Sparring (N-100)

Now here's a pair of girls that like their penalty points. With Colbey Northcutt's and Chelsey Nash's exit from this division, last year's third place champion Tracey Farnes and fifth place featherweight Ali Viola were the contenders this year, where the pair had a total of 28 penalty points nearly split evenly between them. But regardless of the penalty points Viola was destined to win even without the points, topping Farnes 136 to 108. Viola represents brother, Bill Viola's Team Kumite from Pittsburgh and Farnes is from Mark Baier's AB Martial Arts in Colorado. Last year's featherweight champion, Ashlee Grant, was third.
Junior Girl's Middle Continuous Sparring (N-101)

While Colbey Northcutt has reigned supreme in point fighting for the last four years, her challengers in continuous have been harder to overcome. Winning the title in 2005, the two years thereafter she slipping behind in each years Grand Finale losing two matches in each Finale and ultimately each title. This year she was in the Finale once again but with drastically different results. She won all her eliminations matches including against Nicole Gabe whom she's meet again for the title where she topped her a second time 135 to 113 winning back a title she owned back in 2005. Northcutt is from Texas and Grabe is from Dragon Bushido Dojo in Boise, Idaho. Breanna Smedley of Pinnacle Martial Arts was third.
Men's Feather Continuous Sparring (N-102)

Anyone looking for a lot of action wasn't going to find it in this division. Conservative play led to the lowest scoring match of this year's Super Grands. Eddie Villanueva of Team Alchemy was pitted against Michael Holstien of Chip Wright Karate where the final score rested at 42 to 20 for Villanueva's first title since winning junior point sparring in 2004. Third place was won by Miguel Rodriguez of the Estado de Mexico, Mexico.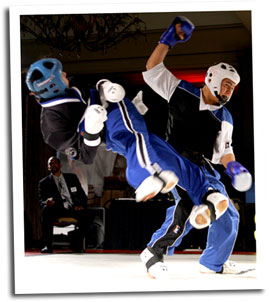 Men's Light Continuous Sparring (N-103)

Andres Garcia reigned in continuous sparring for the last three years and this year he appeared to be headed the same direction as he topped his Finale challenger Daniel Ortiz 65 to 36 in the eliminations. The Finale proved equally the same. Ahead of Ortiz 30 to 20, a medical bow-out by Ortiz prevented a concluded fight giving Garcia his fourth victory in a row. He hails from Schumann's International Team in Guatemala while Ortiz is from Luis Gutierrez' Titanes Team from Hermosillo, Mexico.
Men's Light Middle Continuous Sparring (N-104)

Salvador Schumann's Guatemalan Team kept last year's three titles in continuous repeated with Jose Santiago in this division. Santiago, like fellow team members Juan Pablo Santiago and Andres Garcia, was a winner in 2007 and up again for the title this year, but found a big resistance to prevent him winning the title very easily. The resistance came in the form of rookie adult Joshua Pittman of Frohm's Martial Arts in California. Pittman lost a heartbreaker in the eliminations 52 to 51 to Santiago as their last match before heading into the Grand Finale. But it was far from over. While Santiago led a half time Pittman pulled from behind 79 to 76 to upset Santiago and force a second Finale match. The final run-off had the pair tied even at 13 each at half time but the final half gave Santiago a clear cut 39 to 31 final victory. Alex Gonzalez of Guatemala took third.
Men's Middle Continuous Sparring (N-105)

Matt Okada has been an NBL player long before his adult years. First as a junior traditional forms player, but he really preferred fighting and has become renown for his sparring prowess the last couple of years. He entered as the WestPac number one seed and topping Joshua May 65 to 59 in the eliminations, he was destined to the Finale stage against May once again for the title bout. Okada led most of the way in the first match of the Finale and finalized his title bid winning 93 to 86. Okada trains with various instructors including Raymond Daniels. Third place went to Roark Hodson of Utah.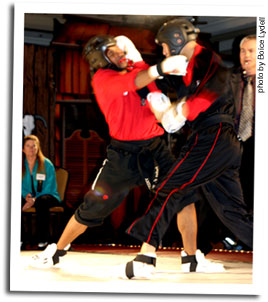 Men's Light Heavy Continuous Sparring (N-106)

Last year's champion, Daniel Marshall, was back again this year. Taking out Mike Levy for the title last year, Levy was left with only fourth place this year after a final loss to Bryan Young. Young, the 2006 champion, in turn, took two losses to Marshall to be left with third place. After a single loss to Young, newcomer Landyn Platt was left for Marshall in the Grand Finale where Marshall got the best of him 118 to 76. Marshall presently hails from Columbia, South Carolina and Landyn Platt from Evanston, Wyoming.
Men's Heavy Continuous Sparring (N-107)

Looking at all the great fighting schools, one should not overlook Frohm's Martial Arts. While their players may not compete as much nationally as others, the school puts out champion fighters. This was particularly evident with Michael Jefferson, a young blackbelt who hailed victory for the first time in junior super heavyweight continuous last year. Barely 18 he was in men's heavy this year where a hotly contested division included past world champions Edgar Cordova, CJ Corbin and Wade Taylor. Corbin was not having a successful time. While taking out Taylor once, he succumbed to him in their second match and along with a loss to Jefferson, landed in third. Taylor, who didn't make weight, lost his seeding and had to fight as a wild card. He came through with seven wins and one loss going to stage against the perfect no loss slate of Jefferson. He lost the first match 68 to 60 leaving Jefferson the victor. Both champions reside in the San Francisco Bay Area, Corbin is from South Carolina.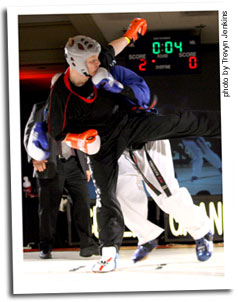 Men's Super Heavy Continuous Sparring (N-108)

What a mess, but it was exciting. Get all the kids away from around ringside so none gets trampled. Ahmed Rice and Charlie Davidson utilized every square inch of the 36'x36' stage plus any adjoining area they they could conveniently trample during their match. After leaving Alexander Hutchinson of Frohm's Martial Arts in third, Rice who hails from California and Davidson from Texas headed for the Finale showdown with Rice having one loss to Davidson already. These two had no intention of giving in to each other as Davidson finally lost the first match 72 to 60. With one final match in store, maintenance cleaned up the destroyed stage area and action resumed. Finalized with a 72 to 70 match in favor of Rice an arbitration was entered where video indeed proved the final score leaving Rice with his first NBL title. He represents Team Ocean's Eleven while Davidson trains with D.E. Chambers.
Women's Feather Continuous Sparring (N-109)

It seems Jessica Varma's name is synonymous with west coast NBL competition and she's been to the Super Grands numeral times, but her name hadn't yet made the list winning a world title. That was until this year. In a division packed with wild cards and the top seeds just being regional rated players, Varma with her number one Golden Gate seed won all her eliminations fights to face Joanne Coady for the title on stage. Varma led most of the match and finalized a victory 94 to 75 for her title win. She hails from Redwood City, California and Coady from Kilkeeny, Ireland, Misty Johnson from California took third.
Women's Light Continuous Sparring (N-110)

Maybe Kris Pilgrim was still dazed by her two point sparring wins as she took losses from both Maria Schumann of Guatemala and Tracey Martinez of Southern California to leave her with third place. Meanwhile Martinez, last year's lightweight winner, prepared herself for a match-up against Schumann's first stage appearance. Schumann, coached by brother Salvador, gave a good fight but lost to the veteran Martinez 65 to 48. Schumann represents the Schumann International Team and Martinez, Team International.