9 & Under Point Sparring (N-63)
Sage Northcutt lucked out with all the byes in the eliminations as he entered with all the national first place seeds conceivable. Jamie Nakamura of Sasaki Kenpo worked his way up in the division taking his only loss from third place Tony Calvery of Team Gotum under Kyle Richards. In the Finale Northcutt slid by Nakamura 3 to 2 to give Nakamura his second loss and take his first point sparring world title. Northcutt is from Katy, Texas.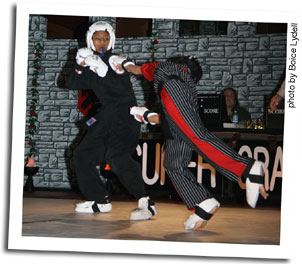 10 to 11 Point Sparring (N-64)
Generally when a player losses their very second match-up in a division of over 20 national players they're pretty much out of the contention especially when their highest seed is only a second place regional. But Ashee Grant of Bowman's Dojo in Pocoima, California simply wound die. She took her only loss to eleventh place Jonathan Rios in her second match but then continued to win ten in a row to eventually win the title on stage against Team Alchemy's Kevin Torres. He entered the Finale with a loss taken to Grant early on. Alex Sandoval, also of Team Alchemy, took third with both his losses to Grant.

12 to 13 Point Sparring (N-65)
Frankie Fernandez won the 10 to 11 year old division last year and moved up this year to the 12 to 13 year old division. He kept a clean slate giving Andre Parrott his only loss in the eliminations before taking a loss to him in the Grand Finale by a 6 to 4 score. It must have taken all Parrott had to win that round as he was slaughtered 6 to 0 in the final match leaving Fernandez with his second point sparring world title. Fernandez is one of the many products of Rick Lee from South Carolina while Parrott calls Langley Martial Arts in Texas as home. Benjamin Ferguson of Virginia took third with a loss to each of the victors.

14 to 15 Point Sparring (N-66)
This division rock and rolled with players from five countries and a line up that surrounded the ring. You know the fighting is tough if the multi-talented Anthony McGinnins (who won continuous) won an amazing fifteen fights and unbelievably only placed eleventh! The final contestants were 2004 12 to 14 year old champion, Ryan George of New Orleans, whose only loss was to fifth placed James Davidson and AJ Maunder of Canada who had a loss to eighth placed Naveed Kermaninejad. With a loss apiece, one match on stage would decide the world champion. By a 5 to 2 score George won the title. Jamal Albini of Dumlao's in California, with a loss to both the champions, took third.

16 to 17 Point Sparring (N-67)
Several of last year's 16 to 17 year olds returned, while some moved to adult and some just didn't show up. Last year's top three did appear, with second place Chris Gallio moving to adult and the title winner C.J. Corbin of South Carolina placing only fifth after losses to Jonathan Garcia and Jose DaCunha. Garcia, last year's third place victor had a clean slate going into the Grand Finale against last year's 14 to 15 year old champion, Richard Steckham, whose only loss was to Garcia. On stage the pint sized Steckham dodged and darted the Garcia leg syndrome but was outscored in the end 6 to 1 leaving Garcia as this year's champion. He hails from Ecatepec, Mexico and trains under Luis Jimenez. Steckham trains under Trevor Nash in Canada. Joey DaCunha, also a Nash protegee, took third.

Girls' 11 to 12 Point Sparring (N-68)
It wasn't looking good for return champion Colby Northcutt whose only wins in the eliminations came from byes earned by her seeded status. She lost to last year's fifth place contestant, Ashley Wallace who was beating everyone in sight this year. She would meet Wallace again on stage after Wallace lost one match to third place winner Stephanie Rosales of Team Alchemy of Texas. But despite Northcutt's eliminations record she knew when it was time to come alive and that she did, narrowly topping Wallace 5 to 4 to win the world title. Nortcutt is trained in sparring by Laco Villanueva in Texas. Wallace trains under multi-talented world champion, Larry Tankson of Illinois.

Girls' 13 to 14 Point Sparring (N-69)
This division is a hard one to figure out. Kyra Kagtanic of Dynamic Karate in Hamilton, Ontario rolled through eight matches trouncing everyone in her way before heading to the Grand Finale stage undefeated. Melissa Steckham of United Family Martial Arts of the same Canadian city won only two matches and took one loss to third place Alyse Lysgaard of Las Vegas to earn the right to go to Finale 1 against the older Kagtanic. In the Finale, Kagtanic was completely turned upside down as Steckham took it to her 5 to 1 and 6 to 2 to win her first sparring title. I think it took her the rest of the tournament to realize she'd actually won.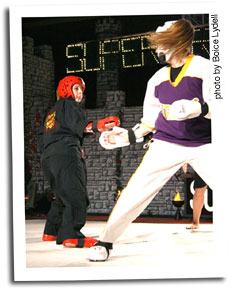 Girls' 15 to 17 Point Sparring (N-70)
Junior girls' sparring seems to be increasingly competitive each year. The appearance of Marissa Mayer in 2005 in the 13 to 14 year old division gave some of the regulars something to think about as she stole the title out from underneath the rest of the group. This year Mayer was in the 15 to 17 and again dominating. Winning all her eliminations matches, she was then to face Lauren Ferguson again, who had already taken one loss to Mayer. In the Finale Ferguson failed once again to top Mayer leaving Mayer with a 4 to 1 victory. Remembering Ferguson losing the SG once in forms and coming back with a vengeance, I wouldn't discount her for a 2007 comeback revenge. Mayer represents Team Straight-up and lives in Rhode Island, while Ferguson represents Team FX and lives in Virginia. Chelsey Nash took third after two losses to the finalists.

Men's Fly Point Sparring (N-71)
Troy Whaley forfeit his number one national seeding and his reigning crown to fight in fly instead of featherweight as he weighed in right at the cut off weight. Unseeded, he beat several players before heading for Finale 2 for the title bout against Andre Cabilan of Canada. With a bow out by Cabilan, Whaley found his renewed victory in an entirely new weight class this year. He is a member of the highly touted DDX team and lives Las Vegas. Enrique Rodrigo of Mexico City took second.

Men's Feather Point Sparring (N-72)
Kyle Richards never skipped a beat in the eliminations winning eight matches in a row taking out his Finale challenger Matt Miller of Team B.O.S.S. and third place winner Gary O'Farell of Ireland. In the Finale, Richards again beat Miller with a score of 4 to 2 for a return to own the title he held in both 2003 and 2004. He represents Team Straight-up and lives in California. Miller is coached by David Quenzel and lives in Bladenboro, North Carolina.

Men's Light Point Sparring (N-73)
The two year world title holder of this division was back to take on all-comers. Shane Baker of Trevor Nash's United Family Karate fame won six matches to make the Grand Finale against "Long time no see" Willie Hicks. Hicks represented Mike Dobashi's Bay Area's Best Team and took his only loss to Baker as a bow out since he'd been sick all day. The crowd anticipated a rumble on stage and the action was fast and furious, but well controlled as Baker topped the wonder boy Hicks 4 to 3 to retain his title and three year victory in the same division. Baker represented Team Straight-up under Joe Greenhalgh and lives in Canada. Hicks lives in Michigan and trains under Richard Plowden. Mike Pustyak of Utah took third.

Men's Light Middle Point Sparring (N-74)
Jason Holmes was back to reclaim his title of 2004 and had to take out GOP teammate Luis Jimenez to accomplish it. Beating Jimenez by a single point in the eliminations he accomplished the same single point victory in the Grand Finale reclaiming his title. Both he and Jimenez live in Houston, Texas being transplants from California and Mexico City. Roark Hodson of Utah took a loss from each of them before landing in third place.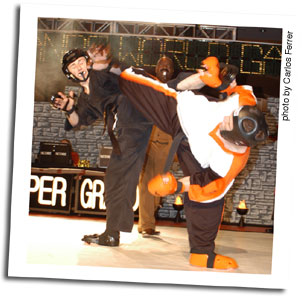 Men's Middle Point Sparring (N-75)
Dan Marshall, last year's light heavyweight champion, returned in middleweight this year and had a nice string of seven victories till he met up with Eli Quenzel of Team B.O.S.S.. Losing 8 to 6 they met again on stage for the division title where Quenzel again stopped the former heavier weight champion 6 to 3 giving Quenzel his first world title. Marshall lives in Corfu, New York and Quenzel in Martinsville, West Virginia. Gaffar Adam of Jamestown, New York took third.

Men's Light Heavy Point Sparring (N-76)
Bryan Young's first place seeding gave him plenty of byes, but when it came to fighting Wade Taylor, his no loss record became marred with a loss. For the final fight on stage, Young and Taylor fought to the bitter end, but Taylor wound up the one point victor 7 to 6. Young is a member of Team GOP and Taylor of DDX. Both reside in California. John Esposito of Tearney''s Martial Arts in New York was third.

Men's Heavy Point Sparring (N-77)
Few matches on stage could met the excitement of Ryan Gonzalez of Team DDX and Ryan Freeman of Team B.O.S.S. Freeman took his only eliminations loss to Chris Gallio who was left in third place. On stage Freeman won his first fight 8 to 5 forcing a final match . The pace then picked up knowing everything was on the line. Gonzalez dipped and ducked throwing backfist and spins winning 10 to 3 for his first NBL world title. Gonzalez is from California and Freeman from North Carolina.

Men's Super Heavy Point Sparring (N-78)
Jeff Tiller of South Carolina goes back a long way in the NBL winning his first title in 1996 in men's lightweight point sparring. Returning this year on Team B.O.S.S. he found his only eliminations loss with Brandon Bertsch who was in his second year as an adult. Meeting again on stage, Bertsch topped him 7 to 4 to win the title. Bertsch lives in Portland, Oregon. Third place went to David Coppock of Colorado.

Women's Fly Point Sparring (N-79)
This division had women from several countries, but finding their way to the forefront were California's Stephanie Tull of Modesto and Melissa Sioson of San Jose. Tull's good seeding allowed her to have only one match in the eliminations that she wound up losing to her Finale challenger Melissa Sioson who had no losses. In the Finale Tull came alive topping GOP's Sioson 6 to 4 and 5 to 4 respectively, thus steeling the title out from underneath Sioson. Dawn Kabela of Texas took third.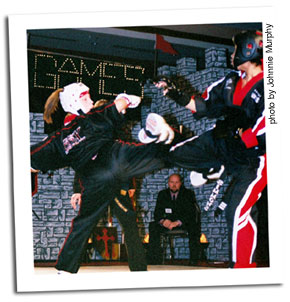 Women's Feather Point Sparring (N-80)
Gina Thornton of Team DDX and Tamika Simmons of Team International both had four wins and one loss heading for Grand Finale 2 to fight each other for the world title. With a 6 to 4 score, Thornton retained her reign in this division. Thornton hails from Virginia and Simmons from Nevada. Both of the champions took their only eliminations loss from third place victor, MaryLynn Maerten of Canada.

Women's Light Point Sparring (N-81)
Renee Slapnicker of Jerry Roberts' New World Karate in Ohio won all her eliminations matchs and was set to fight Jessica Covarrubias, on stage for the title. Covarrubias, who is a DDX team member, had taken six wins and a single loss which was to Slapnicker. She would have to beat her twice on stage to win the title. Once 6 to 5 and once 8 to 4 Covarrubias did just that to win her first NBL world title. She is from Salinas, California. Ashley Young from Team B.O.S.S. took third with a loss to each of the champions.

Women's Middle Point Sparring (N-82)
In her twelveth SG to win a title, Regena Thompson of Team GOP beat Chris Pilgrim of Mark Baier's Five Knuckle Bullet team in the eliminations before facing her on stage again for the title. With a 7 to 3 score, Thompson reigned victorious for her amazing twenty second NBL world title. She resides in Houston, Texas while Pilgrim calls Arvada, Colorado home.

Senior Light Point Sparring (N-83)
Troy Whaley has dominated the senior lightweight division as a whole for several years and did likewise in the eliminations this year giving Joe Shiflett of Team B.O.S.S. his only loss. In the Finale, as the same two met again, Whaley took a one point loss to Shiflett to even the score. Whaley dominated the final match until he drew blood causing him to be disqualified and forfeiting the match and the title to Shiflett. Whaley is from South Carolina. Carlos Cuyun of Guatemala took third.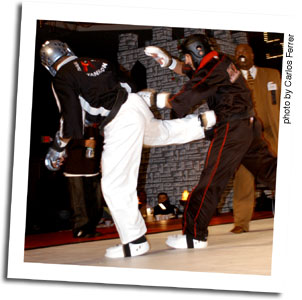 Senior Middle Point Sparring (N-84)
While Larry Tankon squashed Marty Maye twice on stage last year in order to win a title for the ninth straight year, Tankson couldn't seem to get it together against Maye this year, as Maye took him to the cleaners 9 to 2 on the stage in the final round. Maye and Tankson have battled this division back and forth for four years now. Maye is a team member of DDX and resides in Oregon. Tankson is on Team IDC and lives in Chicago. Derrick Wilson of Texas and Team Focus took third.

Senior Heavy Point Sparring (N-85)
Two year champion Bill Hunter was put to rest as he checked into fifth place this year leaving a couple of NBL rookies to lead the division. Van Frasher of Chuck Norris' CKD Team coached by Chuck Elias won five in a row including giving Elvis Paulino his only loss before the two met again on stage for the title bout. In the lowest point sparring match of the Games, the conservative players left a record 2 to 0 score in favor of Frasher. He is from Gahanra, Ohio and Paulino is from Maple, Ontario. Marty Cacavas of Buffalo, New York took third.

Senior Super Heavy Point Sparring (N-86)
Tim Gustavson of Oregon had everything going his way taking out all the top dogs before going to stage against Ronald George of New Orleans. Gustavson already beat George in the eliminations and again proved his superiority this year by toppling him 11 to 2 to win back the title he held in 2004. Gustavson is on Team DDX and George on Team GOP. David Coppock of Colorado took third.

Senior Women's All Weights Point Sparring (N-87)
Several well respected senior women entered the Super Grands this year. Julayne Shiflett of Team B.O.S.S. found herself with six wins and a single loss to third place Renee Slapnicker, while Susan Langley had four wins and a single loss to Shiflett as these two met again on stage for the title. Final round – Shiflett won back the title she held two years ago. She is from South Carolina while Langley calls Houston, Texas home.

Senior Men's 45+ Light Point Sparring (N-88)
Larry Tankson always seems to find at least one point sparring division to sneak by with a win to keep his record alive. With a win this year he would have 10 consecutive years taking home a point sparring title. He found it in this division this year winning all his eliminations matches and beating Johnnie Murphy of Team Focus on stage for the title. He is from Chicago, Illinois and Murphy from Houston, Texas. Joey Shiflett took third.

Senior Men's 45+ Heavy Point Sparring (N-89)
All repaired and back in action, Ron Ferguson attempted a sparring title this year... something he's never accomplished after a half dozen or so forms titles. After six matches he chalked up five wins and a single loss to reigning champion Bill Hunter. Hunter on the other hand had six wins and a single loss to Ferguson. So the title match was on between the two where Ferguson managed to dethroned the two year champ 5 to 3 for his first sparring win. Ferguson is the leader of Team FX of Virginia while Hunter is from British Columbia, Canada. Shannon Apple of California took third.